Swift Currie Adds 7 Attorneys in Atlanta and Birmingham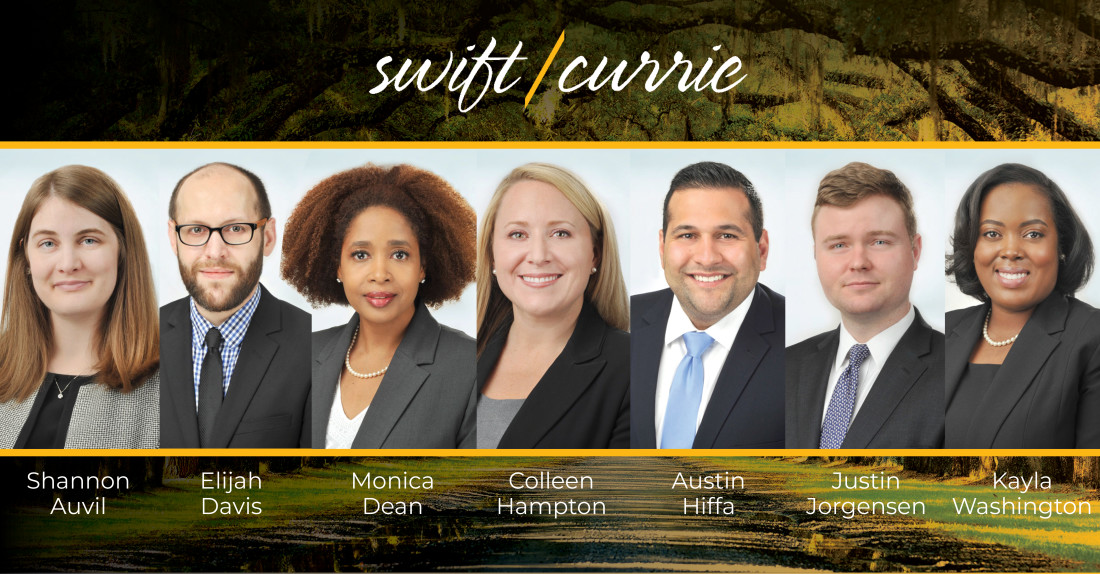 Swift, Currie, McGhee & Hiers, LLP, announces seven new attorneys joined the firm in October and November 2019. The additions include attorneys Shannon Auvil, Elijah Davis, Monica Dean, Colleen Hampton, Austin Hiffa and Justin Jorgensen in the Atlanta office, and Kayla Washington in Birmingham. With today's announcement, the firm has added 26 new attorneys so far this year after adding 45 new hires in 2018, bringing the firm's headcount to more than 150 attorneys.
"We are grateful to be in a position to continue growing with talented litigators, like these seven associates, as our clients' needs for outstanding legal counsel is equally on the rise," said Terry Brantley[1], managing partner at Swift Currie. "We have experienced tremendous growth over the past three years, and our lawyers' diverse and extensive experience allows us to continue providing effective solutions to the broad range of litigation challenges facing businesses in the Southeast and around the country."
Shannon Auvil[2] joins Swift Currie's litigation practice defending companies involved in premises and products liability matters, as well as insurance coverage issues. Before joining Swift Currie, Auvil served as a law clerk to the Honorable Michele J. Kim in the U.S. Bankruptcy Court for the Southern District of Georgia. During law school, she worked as a legal intern for the U.S. District Court for the Northern District of Alabama and the U.S. Army Legal Services Agency. Auvil earned her undergraduate degree from the University of Alabama and her law degree from the University of Alabama School of Law, where she was executive editor of the Alabama Civil Rights & Civil Liberties Law Review.
Elijah Davis[3] joins Swift Currie's workers' compensation section, concentrating his practice on the defense of employers, insurers and third-party administrators throughout various stages of workplace injury claims. He brings experience conducting claimant and expert witness depositions, negotiating claim settlements, drafting motions and briefs for submission to the State Board of Workers' Compensation and representing clients at administrative hearings before the State Board of Workers' Compensation. While attending law school, Davis was a student attorney and graduate research assistant for Georgia State University's Philip C. Cook Low-Income Taxpayer Clinic. He received his undergraduate degree from Kennesaw State University, MBA and MHA from Georgia State University J. Mack Robinson College of Business and law degree from Georgia State University College of Law.
Monica Dean[4] brings more than a decade of experience to Swift Currie's litigation practice. She defends clients in civil litigation matters, including automobile and trucking litigation, catastrophic injury and wrongful death, construction law, insurance coverage and premises liability. Since 2013, Dean has served as an officer in the Georgia Air National Guard, providing legal counsel to guardsmen, commanders and senior officers. Following law school, Dean served as a staff attorney for the State Court of Henry County and Superior Court of Fulton County in Georgia. She received her undergraduate degree from Florida A&M University and law degree from University of Georgia School of Law.
Colleen Hampton, a former Swift Currie summer associate, joins the firm's workers' compensation practice. Before beginning her practice, Hampton spent 13 years as a negotiator for health insurance companies where she worked closely with hospitals, physicians and ancillary providers to de-escalate high-dollar disputes and negotiate settlements. During law school, she developed and co-led the Summer Rural Justice Alternative Spring Break where students traveled to legal deserts in South Georgia and assisted Daugherty County Law Library in creating self-help videos for pro se litigants. In addition, she served as a graduate research assistant for the Georgia State University Veterans Legal Assistance Program and interned for Cobb County District Attorney's Office. Hampton received her undergraduate degree from Rockford University and her law degree from Georgia State University College of Law.
Austin Hiffa[5] joins Swift Currie's coverage and commercial litigation section. Hiffa focuses on defending clients in automobile, commercial and trucking litigation, as well as premises liability issues. Additionally, he has extensive experience representing small and medium-sized businesses in complex commercial litigation matters, including breach of contract and partnership/joint venture disputes. While in law school, Hiffa served as a student attorney for Syracuse University's Criminal Defense Clinic and clerked for a civil litigation firm and the DeKalb County District Attorney's Office. Hiffa received his undergraduate degree from Georgia Southern University and his law degree from Syracuse University College of Law.
Justin Jorgensen[6] joins Swift Currie as a civil litigator defending commercial litigation, insurance coverage and premises liability matters. As a judicial law clerk for the Honorable Leah K. Seaton in the Circuit Court for Wicomico County, Maryland, Jorgensen assisted with more than 1,000 cases and nearly 50 jury trials. During law school, he interned for the City Attorney of Richmond where he helped defend the city against claims made under the Americans with Disabilities Act (ADA). Jorgensen earned his undergraduate degree from Emory University and his law degree from University of Richmond School of Law.
Kayla Washington[7] joins Swift Currie's litigation practice representing companies in insurance coverage, commercial litigation and workers' compensation matters. While in law school, she served as an intern for the U.S. Equal Employment Opportunity Commission and a national healthcare services provider, as well as a law clerk for two Birmingham-based personal injury firms. Prior to practicing law, Washington was a registered nurse. Washington earned her BSN from University of Alabama at Birmingham and her law degree from University of Alabama School of Law.
Metro Atlanta CEO featured the attorneys in an article published on Nov. 21 (available here[8]) and Atlanta Journal-Constitution published the news in it's Sunday business section on Dec. 8 (available here[9]). Kayla Washington was featured in the Birmingham Business Journal published on Nov. 22 (available here[10]) and in the spring 2020 issue of the Birmingham Bar Association Bulletin (available here[11]).
About Swift, Currie, McGhee & Hiers, LLP
Based on more than 50 years of representing clients in Georgia, Alabama and throughout the country, Swift, Currie, McGhee & Hiers, LLP, has evolved into a law firm capable of handling all areas of civil law and litigation. With approximately 150 attorneys, Swift Currie possesses the resources and abilities to tackle the most complex legal problems, while at the same time, providing its clients with individualized, prompt and cost-effective service. The firm has a wealth of experience across numerous practice areas and its depth of legal talent allows the firm to tailor such strengths to individual cases. For more information, please visit www.swiftcurrie.com[12].
Source URL: Read More
The public content above was dynamically discovered – by graded relevancy to this site's keyword domain name. Such discovery was by systematic attempts to filter for "Creative Commons" re-use licensing and/or by Press Release distributions. "Source URL" states the content's owner and/or publisher. When possible, this site references the content above to generate its value-add, the dynamic sentimental analysis below, which allows us to research global sentiments across a multitude of topics related to this site's specific keyword domain name. Additionally, when possible, this site references the content above to provide on-demand (multilingual) translations and/or to power its "Read Article to Me" feature, which reads the content aloud to visitors. Where applicable, this site also auto-generates a "References" section, which appends the content above by listing all mentioned links. Views expressed in the content above are solely those of the author(s). We do not endorse, offer to sell, promote, recommend, or, otherwise, make any statement about the content above. We reference the content above for your "reading" entertainment purposes only. Review "DMCA & Terms", at the bottom of this site, for terms of your access and use as well as for applicable DMCA take-down request.
Acquire this Domain
You can acquire this site's domain name! We have nurtured its online marketing value by systematically curating this site by the domain's relevant keywords. Explore our content network – you can advertise on each or rent vs. buy the domain. Buy@TLDtraders.com | Skype: TLDtraders | +1 (475) BUY-NAME (289 – 6263). Thousands search by this site's exact keyword domain name! Most are sent here because search engines often love the keyword. This domain can be your 24/7 lead generator! If you own it, you could capture a large amount of online traffic for your niche. Stop wasting money on ads. Instead, buy this domain to gain a long-term marketing asset. If you can't afford to buy then you can rent the domain.
About Us
We are Internet Investors, Developers, and Franchisers – operating a content network of several thousand sites while federating 100+ eCommerce and SaaS startups. With our proprietary "inverted incubation" model, we leverage a portfolio of $100M in valued domains to impact online trends, traffic, and transactions. We use robotic process automation, machine learning, and other proprietary approaches to power our content network. Contact us to learn how we can help you with your online marketing and/or site maintenance.